This is a directory of information for each NFC and/or BLE reader on your site. You can check reader statuses, change zone or location details, and adjust reader directions – each view is downloadable.
ACCESSING HARDWARE DIRECTORY
Select Hardware from the drop-down menu at the top of the dashboard.
Click Readers in the menu on the left.

Note: If a reader is offline, it will continue to function and store data locally - once it comes back online, any local data will automatically upload to the dashboard.
ADDING FILTERS
Click Filters to filter by one or more characteristics.
Click a characteristic to expand filtering options
Click the box next to the filters you wish to apply.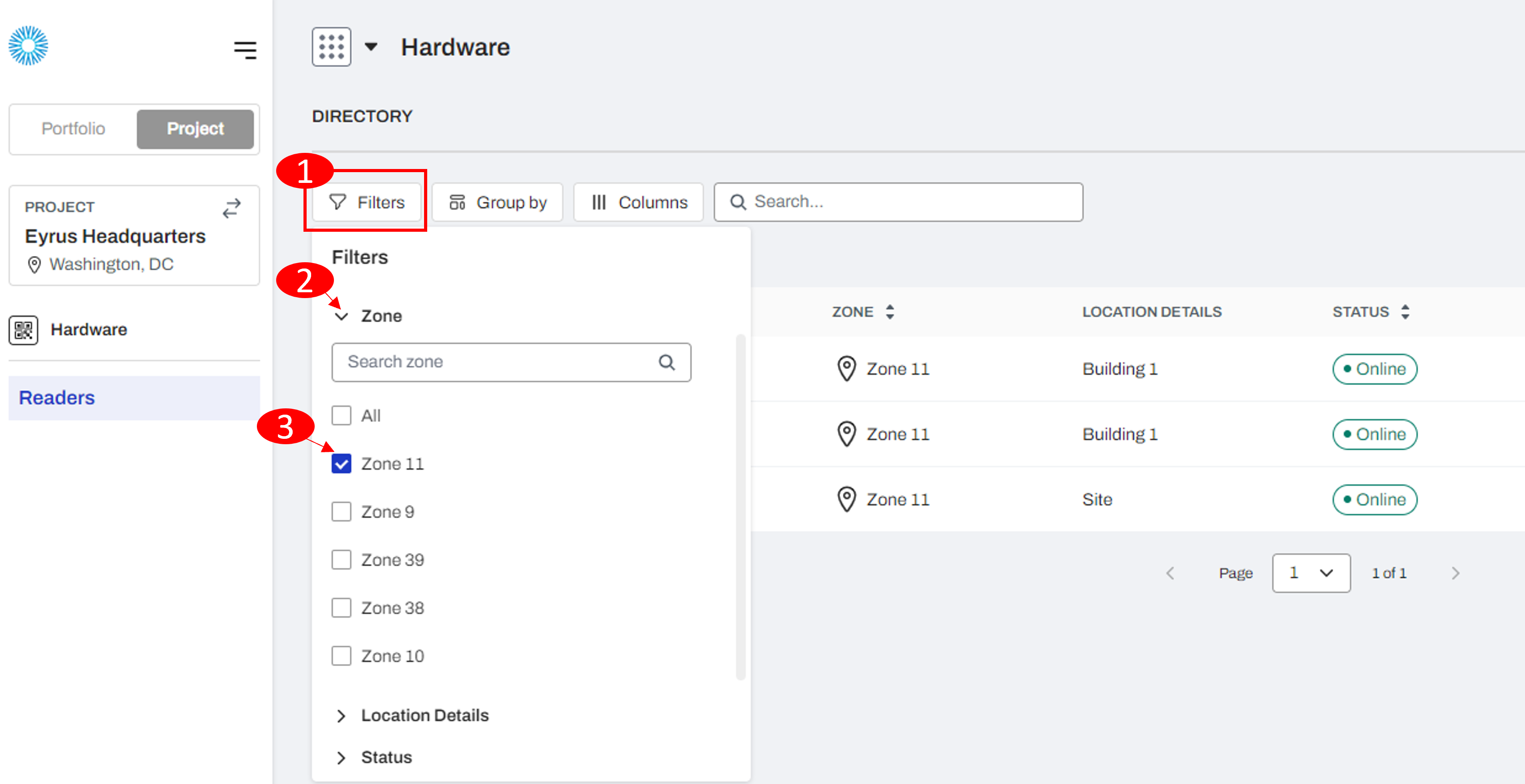 Note: You can apply as many filters across different characteristics as you'd like.
GROUPING READERS BY A SHARED CHARACTERISTIC
Click Group by to select a characteristic to group the readers by.
Click the characteristic you wish to group by.
The number of readers in each grouping is displayed.
Click a characteristic to expand the list of readers in that grouping.

CHOOSING COLUMNS
Click Columns to select the columns you wish to view.
Uncheck the characteristics that you'd like to remove from view.

SEARCHING FOR READERS
Enter the keyword you wish to search for.
Note: You can search keywords pertaining to any column - SN, Type, Zone, Location, Status, Power Source, Last Read, or Read Direction.
DOWNLOADING CURRENT VIEW
Click Download to download the current directory view.

Note: The file will appear at the bottom of your browser and will also be available in your downloads folder.